Peepoodo Season 2 !



The campaign is now closed, and Peepoodo Season 2 has been released. Thanks to all our backers and donators !

Backer Credits List




Campaign ended !
(since January 16th 2020)
410 394€
6545 Kickstarter backers/donators
Kickstarter payment issues :
117 backers were unable to pay.
Loss : 6071€

Campaign ended !
(since February 28th 2020)
61 861 €
1654 Paypal backers/donators
(last updated on March 09 2022 11:00 AM CET)
Final Amount :
472 255 €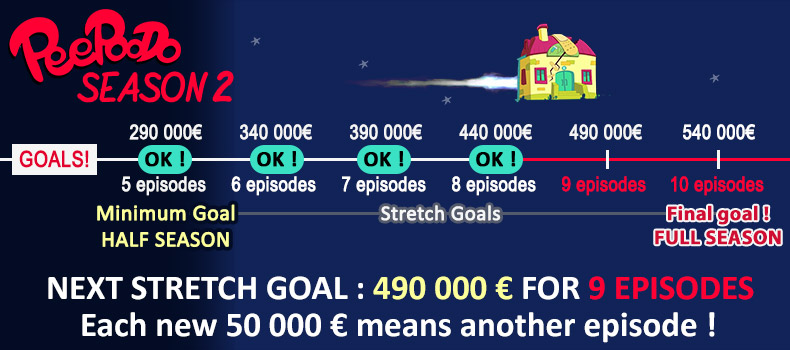 Save the Peepoodo universe!
After millions of views, this show needs you to continue the journey!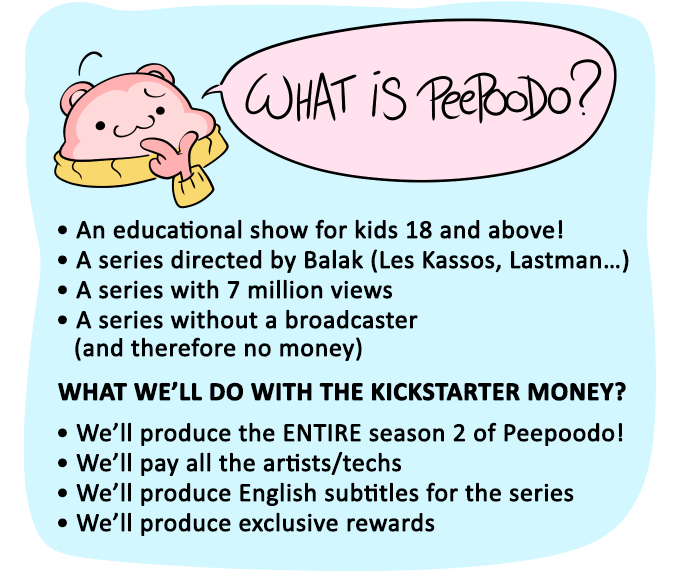 Only you can make the second season of Peepoodo a reality!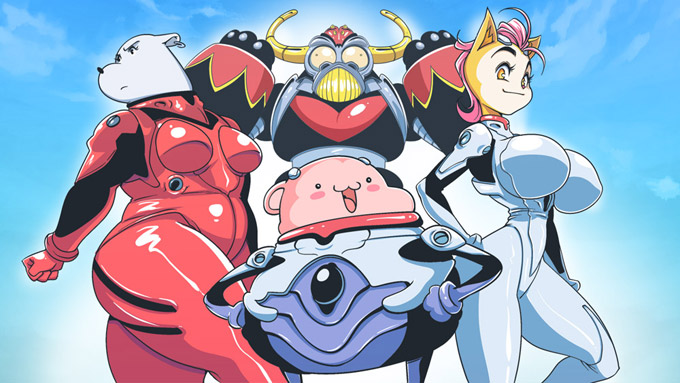 Peepoodo & The Super Fuck Friends
is an educational show aiming to explore sexuality in all its glory. It does so in an unbridled, positive manner and without any prejudice… with the ultimate message being one of tolerance.
The series was created and directed by Balak, an award-winning artist known for the graphic novel "Lastman" and the series "Les Kassos" (The Wakos). He is also the inventor of the "Turbo Media" format of storytelling, which he used for "Infinite Comics" published by Marvel.
The show is produced entirely in France, in our Bobbypills studio and is distributed for free on the web. Season 1 came out in 2018 and was released on the Blackpills platform, on YouTube (for a few weeks) and racked up over 7 million views. It's fantastic! But there's a catch: we lost our broadcaster and despite the show's success, we haven't been able to find a partner to help us produce the next season. Why not?
Because it's "too sexual" for most platforms (such as YouTube, from which we got banned) and too "soft" for the adult platforms (we tried that too). Peepoodo doesn't seem to fit in any box (not even Japan), despite the fact that people are begging us for a second season.
And so today, we turn to you: our fans.
Crowdfunding is our only option.
With your backup, we'll be able to produce a new season and release it for free on the internet.
Let's forget about broadcasters and produce the second season of Peepoodo together!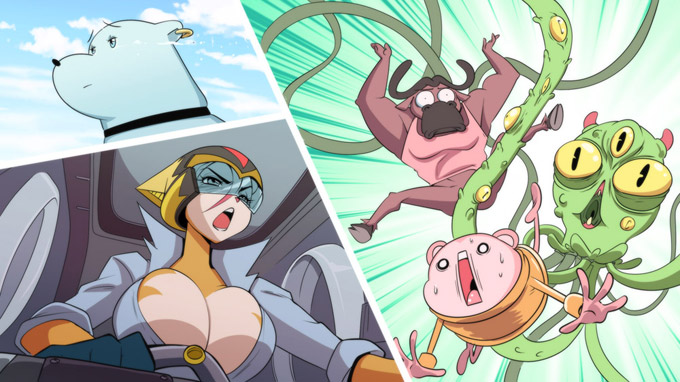 SEASON 2 ! Peepoodo & The Super Space Friends !
After destroying the earth with his dick, Peepoodo (accompanied by Dr Pussycat, Evelyne and Tuffalo) is loitering in space aboard the doctor's office; now repurposed as a makeshift spaceship. While looking for a new planet to settle on, they discover that space is a much more hostile environment than the Pretty Forest, and they encounter various forms of alien sexuality which defy the imagination…
Season 2 of Peepoodo, Peepoodo & the Super Space Friends can be summarised in two words: "Sex trek", Star Trek with sex, full of plot twists and strong messages, dealing with the issues of today. We'd describe it as a sexual variation on Douglas Adams' The Hitchhiker Guide To The Galaxy, or Doctor Who. Your favourite characters will all be back, but in a totally new universe (literally! lol!) and with brand new positions: Dr Pussycat will be the captain of the ship, Peepoodo will be her right arm and intern, Tuffalo will be Chief Engineer and Evelyne will be the pilot and communications manager. There will be a new character added to the regular crew: an alien. The search for a new habitable planet serves as a tool for continuity, but Dr Pussycat will still be there to offer scientific anecdotes such as: "Can a black hole suffer a quantic prolapse?".
We are sure you get the idea: Peepoodo season 2 will be science fiction, and it will take you to the edge of infinity… to the mysteries of the Universe and Life itself.

290 000 € = 5 EPISODES (minimum goal)
340 000 € = 6 EPISODES (stretch goal #1)
390 000 € = 7 EPISODES (stretch goal #2)
440 000 € = 8 EPISODES (stretch goal #3)
490 000 € = 9 EPISODES (stretch goal #4)
540 000 € = 10 EPISODES = FULL SEASON ! (stretch goal #5)
WHAT WE'LL DO WITH THE KICKSTARTER MONEY?
How will the money from the campaign help us? It's simple. It will be used to finance the second season of Peepoodo in its entirety. We are an independent studio without financing. You are the only ones who can make this happen.
The second season will be between 5 to 10 episodes. Each episode will be 5 minutes long (like in season 1).
Our minimum goal will enable us to produce 5 episodes (290 000 euros). If we go beyond our goal, we will aim to reach our higher goals, hopefully making it to the 10th episode, ideally created by Balak (540 000 euros).
We chose to put our initial Kickstarter goal at 5 episodes to give us the best chance of financing our campaign. If this minimum goal isn't achieved, we will not be able to produce any new Peepoodo episodes.
The money from the Kickstarter will be used to finance the entire series and pay everyone involved: author/director, production manager, script, storyboard/animation, design, sets, layout, special effects, compositing, music, dubbing, sound mixing… We also want to provide the English translation and subtitles for season 2.
Aside from that, we want to use the funds for rewards and extras, which would be impossible to finance otherwise.
If we go beyond the 10 episode goal, we want to assure the English dubbing for Peepoodo season 2 (+ subtitles in Spanish, German, Italian, Portuguese, Japanese), and Japanese dubbing for both seasons.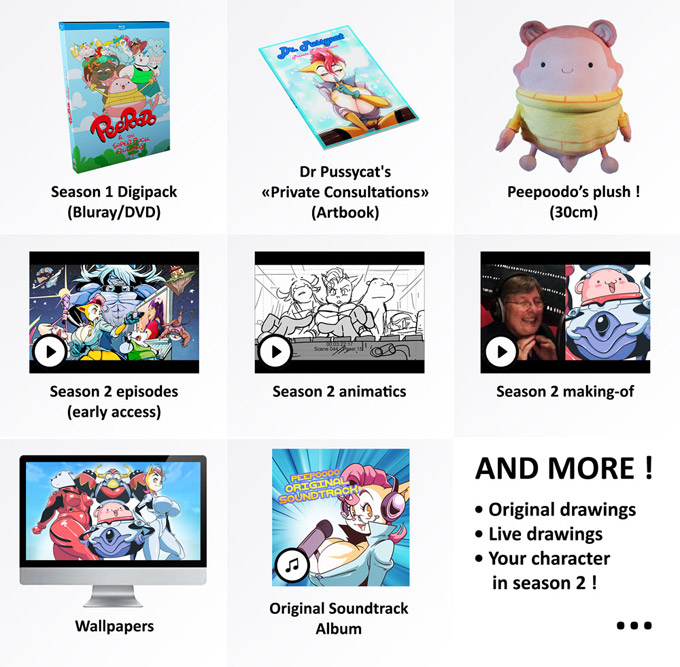 Not only will you receive a pre-release copy of season 2, you will also receive rewards such as: a Blu-ray/DVD box set of season 1 (with English dubbing and subtitles in many other languages), a doujin/artbook of Dr Pussycat: "Dr Pussycat - Private Consultations" and a Peepoodo plush toy!
These exclusive products are being put together lovingly for our backers. Just like a second season, these products couldn't exist without you, and couldn't be found on supermarket shelves.
We'll also produce exclusive digital contents like an original soundtrack album, a making-of documentary, wallpapers ... and we'll also give access to the animatics.
Last but not least, ultimate rewards will let you become an incidental character in an episode !
-
Peepoodo & The Super Fuck Friends - Season 1 (Bluray/DVD)
Digipack 3 flaps and case.
Languages: French, English
Subtitles: French, English, Spanish, German, Italian, Portuguese, Japanese.
And many extras!
Zone: Region free
-
Dr Pussycat's Private Consultations (Artbook)
Illustrations, graphic novels, unreleased material and guests!
Paging : 100 pages
Format : A4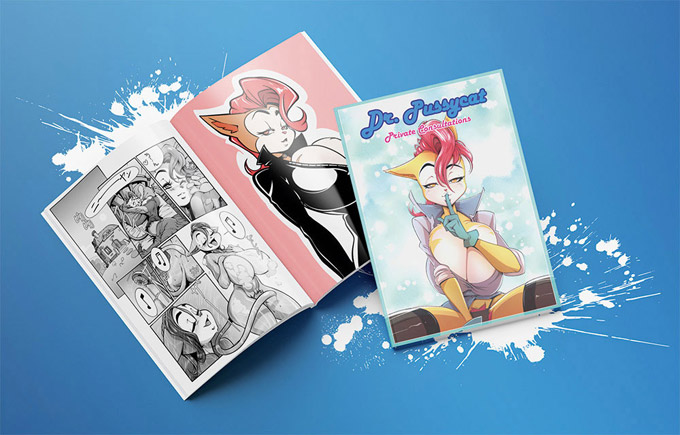 -
Peepoodo Plush
The exclusive Peepoodo plush toy !
Height : 30 cm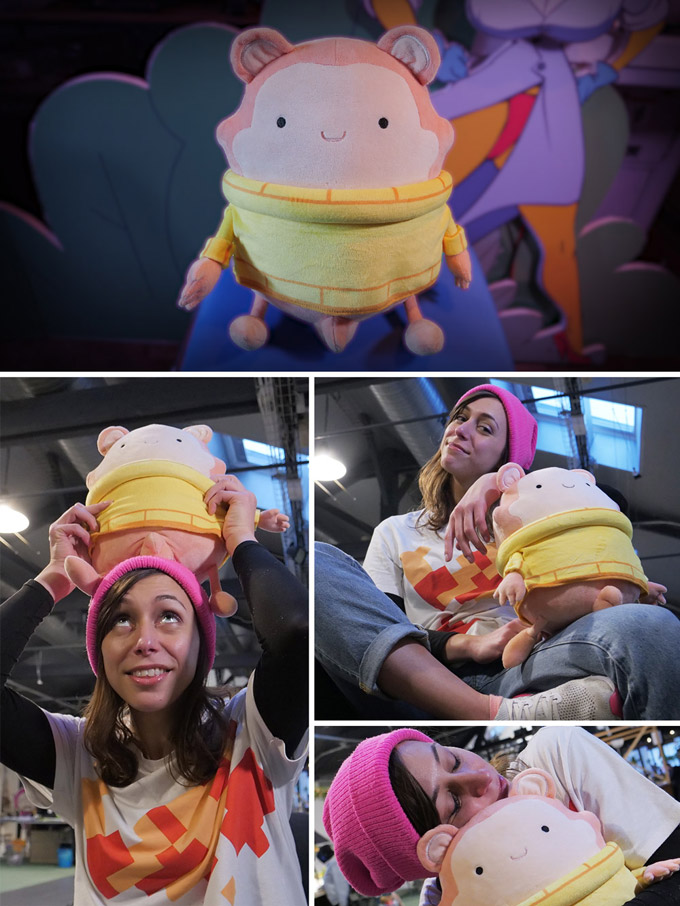 Creator/Director : BALAK
Yves Bigerel, aka Balak started in the animation world as a storyboard artist and created a format of digital storytelling called "Turbo Media". After studying philosophy, he attended the Gobelins school where he studied the art of animation for three years. He is one of the authors of Lastman (published by Casterman, winner of 'Prix de la série Angoulême 2015') along with Bastien Vivès and Michaël Sanlaville, which was also animated for TV under the direction of Jérémie Périn, and broadcasted by France 4. He was a storyboard artist at Marvel Comics, where he co-wrote digital comics in Turbo Media format (Avengers vs X Men, Guardians of the Galaxy, Wolverine, Ultimate Spiderman...). In 2013, he directed a series called The Wakos ("Les Kassos" produced by Bobby Prod for Canal Plus). He began working as an artistic director for Bobbypills studio in 2017, where he co-created Vermin and directed the first season of Peepoodo & The Super Fuck Friends.

The Team
We have yet to recruit the staff for the second season of Peepoodo. Since it will be produced by Bobbypills studio, it will contain many of the same people who worked on season 1.
The co-screenwriters of season 2 will be the same:
Brice Chevillard and Nicolas Athané
, creators and directors of Monsieur Flap. Brice and Nicolas have also worked on famous feature length animations such as Despicable Me 2 and The Rabbi's Cat. And guess what, Brice is also the french voice of Grocosto ! (Tuffalo)
Our main voice actresses will also return to season 2: Brigitte Lecordier (Peepoodo) and Jeanne Chartier (Dr Pussycat), who have something to tell you ;-]
BOBBYPILLS STUDIO
Bobbypills is the first and only Studio in Europe specialized in adult animation. In less than a year, the Paris based studio created, produced and released 3 original series to critical acclaim. Internationally distributed, the series have become instant hits that have had prestige screenings at festivals including Fantasia, RTX Austin, and Morbido. Known for developing outrageously progressive concepts that would only be acceptable in the animation medium, Bobbypills works with the most sought-after talents in French animation to combine European sensibilities with Japanese and American influences and bring them to global audience hungry for elevated animated series. A third way is coming.

You can watch the first season of Peepoodo & The Super Fuck Friends for free here, on this website.
Available in 7 languages : French, English, Spanish, German, Italian, Portuguese, Japanese.
CONTACT :
peepoodo@bobbypills.com
Press relations :
marc@bobbypills.com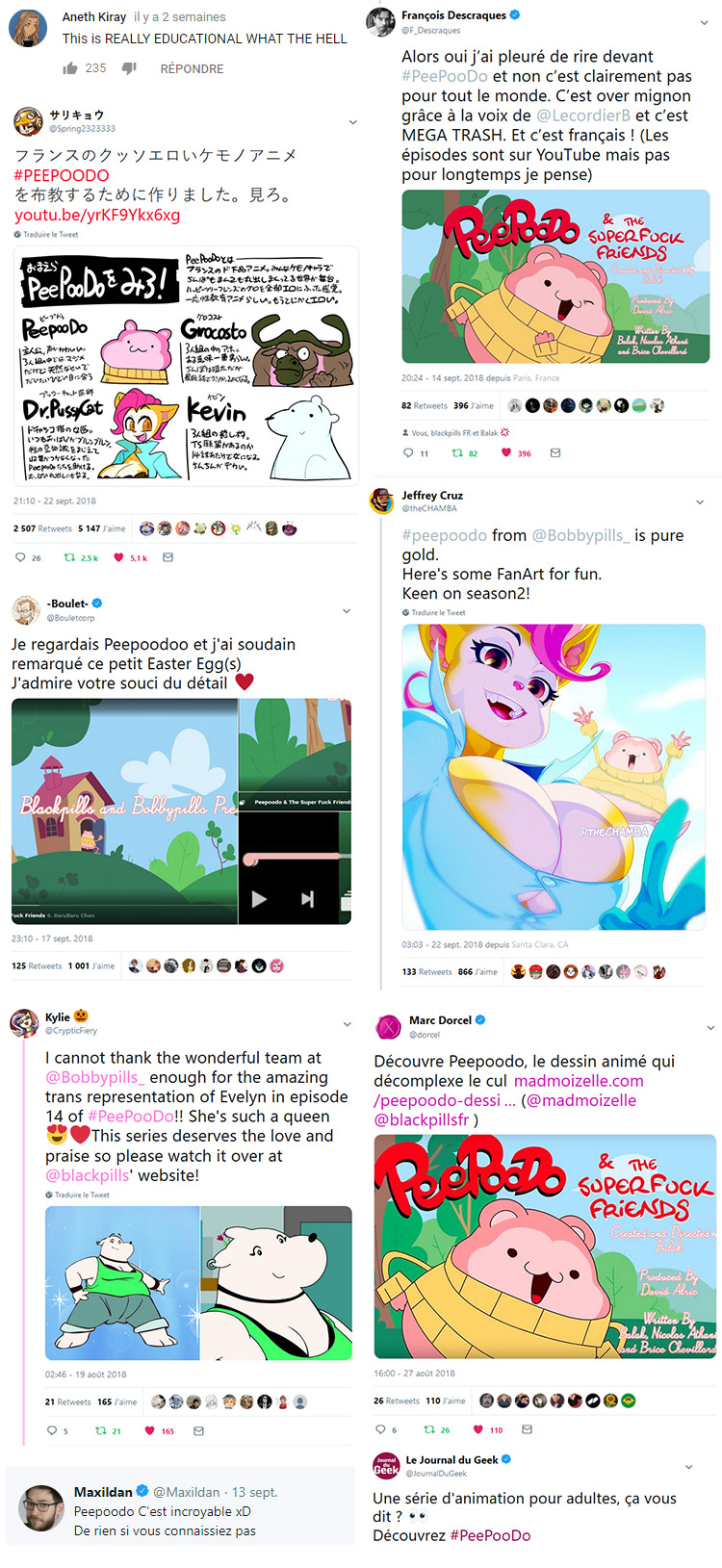 FAQ
-
540 000 euros is quite a large sum of money?
Animation is expensive. An animated series usually costs a few million euros. For the second season of Peepoodo, we reduced the number of episodes and did our best to minimise production cost, but we can't go any lower. We're talking about a show that will involve dozens of people for at least a year.
-
How will Peepoodo Season 2 be financed ?
The second season of Peepoodo will be 100% financed by the crowdfunding campaign, by our fans. We have no other partners or subsidies…
-
Will the backers be credited ?
Yes, all the backers will be credited on the official website : peepoodo.bobbypills.com
-
Can I use PayPal ?
Yes, we now accept Paypal on this page (
peepoodo.bobbypills.com/s2#paypal
) ! We provide this solution because Kickstarter does not accept Paypal payment method.
-
When will season 2 be broadcast?
If the campaign is successful, we hope to finish production by the end of 2020 with broadcasting scheduled for shortly after.
The backers will have access to it at least 2 months before the official release date.
-
What languages will be available for Season 2 ?
The second season will be in French with English subtitles. If we reach higher funding goals, we will produce English dubbing (for season 2) and subtitles in Spanish, German, Italian, Portuguese, Japanese, as well as Japanese dubbing for both seasons.
-
How will the digital rewards be distributed ?
Digital extras and rewards will be distributed through a secure platform.
-
Why not include season 2 in the Blu-ray box set ?
In order to do that, we need to make sure season 2 exists. Without knowing the number of episodes and which languages will be involved, we cannot possibly budget a physical publication. However, you will receive the season 1 Blu-ray box set well before we finish season 2, which will keep you busy until then!
-
Can we suggest new reward ideas ?
Of course, within the realms of possibility :-]
BANNERS / POSTERS


Download Banner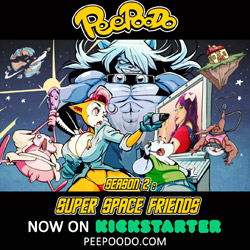 Download Banner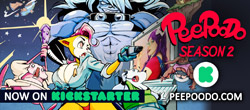 Download (optimized for Facebook)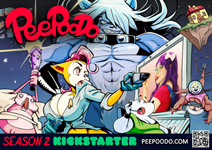 Download A3 Poster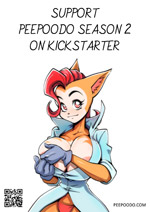 Download A4 Poster (english)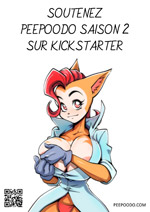 Download A4 Poster (english
Crowdfunding campaign :
ENDED

CONTACT :
peepoodo@bobbypills.com